Sometimes, it's easy to re-watch a seemingly perfect series – be it Friends, Sex and the City or Gossip Girl – and feel content with your twenties and think, I'm going to write a weekly column like Carrie! Or I could be a waitress-come-fashion-expert like Rachel, easy.
Other times, it's the opposite. How can they all afford to live in amazing apartments in Manhattan when I can barely afford rent? And how can they pull it off by working about four hours a week, when all I do is work? Why are they all so funny and happy all the time?
Though these are false, fabricated lives carefully constructed for the perfect sit-com setting, it can still trigger moods of existential doom.
In our timeline, we are forced to create a perfect online representation, tolerate competitive job positions, over-complicated relationships, and face unlimited choices.
The world is literally our oyster now. Perhaps generations before, had wished and hoped, to have the blissful freedom that we have now, and perhaps they upgraded the world to ensure that we would experience their dream.
No pressure.
I admit it's a great luxury, the ability to up and move anywhere, to travel and to change. But regardless, it's an option available to the millions these days. Digital nomads and travel bloggers are a regular occurrence now, freelance positions are rife, and loans are easily obtainable.
It's incredibly freeing, but simultaneously a huge and terrifying, overwhelming responsibility.
We have the gift of freedom, and it must be used with caution and gratitude – and we are welcome to return if we don't discover anything worthy, but nothing ventured is nothing gained.
These overwhelming options, that falsely appear luxurious, can sometimes feel akin to torture. We can journey to our deepest desires, but even when we find a place we appreciate, we still have the option to move further afield, or backward.
Sometimes when choosing the path, you must waste time and money heading down one route before you know when to turn back and start again.
Being in your twenties is tough, and I understand my version of tough could seem over-dramatic, but it's nonetheless subjectively hard-hitting at times. But what amazes me all the time – is that I am absolutely not alone. Everyone struggles in their 20s! They are a time of huge pressure, indecisiveness, and stress. It is rare, that someone glides through this time, unscathed. It's normal to have bumps on the road and to pull over and take a nap.
Even the flawless people you scroll passed on Instagram or on the street, even your most put-together-friend, will have similar cracks if you poke and prod enough.
But often it can seem that we are slaves to our minds, overactive anxieties, and worst-case scenarios. So here is a list of books that made me feel a whole lot better about this decade, so far.
If you already follow her online, listen to her podcast or read her columns you know what she's like; a nice-cozy-positive-privileged London born woman, and if you can overlook the minor perks and privilege, she's just a normal girl who bumped and rolled through her twenties like the rest of us. Her memoir is relatable, hilarious, and very honest. She chronicles her whole life and delves into everything, from boys to heavy nights out to comfort food and overspending. Her rickety ride, filled with ups and downs, made me laugh and empathize, and feel a whole lot better about my twenties.
"All the hours lost in the cul-de-sac of your head torturing yourself with all the stupid things you said and did, hating yourself for the following few days." – Dolly Alderton, Everything I Know About Love
This book is perfect – a literal How-To guide about your twenties and growing up – just as it says right there on the tin. Buchanan admits and addresses all her growing up transgressions, and how she learned from them. What more could you need? She acknowledges everything you might possibly imagine and more – how to be confident, how to wash your hair properly, how to practice real self-care (not just the marketed version that makes you buy loads of facemasks and expensive soaps) and even how to make mistakes. With some laughs, cringes and a lot of wisdom, you feel like Daisy herself has stroked your hair and soothed that you're doing just fine.
I've spoken about her remarkable writing before and I was torn between this or Normal People, but I figured this book significantly captures and exaggerates the complex emotions and relationships of our twenties. If you're like me, you'll become completely engrossed, gobble the book in two days and feel both sad it's over and relieved that in comparison, you have a normal essence and your worries will feel lighter. Just the remedy!
"You live through certain things before you understand them. You can't always take the analytical position." ― Sally Rooney, Conversations with Friends
O'Donoghue is a budding new Irish writer, and I'm obsessed. Having followed her podcast, School for Dumb Woman, I was excited for the release of her debut novel. The title encouraged me to think of a self-improvement book meets feminism. But to my surprise, it was a fictional novel about a young woman in London, at the preface of her advertising career. The book begins after the dissolution of her long-term relationship. It investigates our twenties, relationships, the toxicity of work and misogyny, and the manipulation in the workplace. An intriguing read, it involves a lesson or two in work-place relationships and appropriateness, and when to know what crosses the line.
"That is how the food chain works. Dozens of attractive young women do the grunt work for a handful of men, and the women get filtered out by motherhood. It is the corporate version of natural selection." – Caroline O'Donoghue, Promising Young Women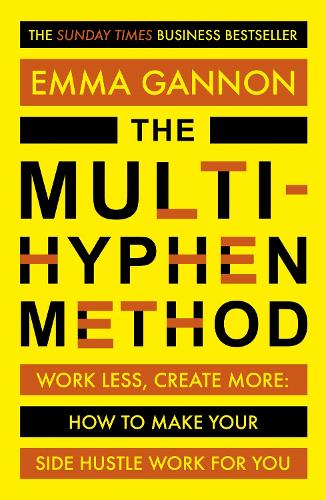 In a previous post, I mentioned Gannon's podcast Ctrl Alt Delete, an inspiring listen in which she interviews different note-worthy people about their careers, the modern workplace, success, and the internet. Her book is about creating a work-life that works for you, working less and enjoying life. She discusses work in modern society, compares it with the past and correlates it with generations. It's a must read if you're unsure of what career step to take next, or how to develop a side-hustle. Even if you're perfectly happy in your job it teaches you to do less, compartmentalize and streamline important things. This book gives you a real kick and motivational boost, to change your life and improve it significantly.