Staying in and watching television is not what summer is about, but it's okay if it's part of it, or even a majority.
For me, although I'm coping ok-ish with the heat, I'm trying to stay indoors at peak heat times in the afternoon, as is the Spanish way.
At first, it was fun, a little siesta.
But thankfully my sleeping is relatively regimented now and I don't need a siesta, especially when I blast the air-con. Yet it was still difficult to focus on productive tasks that often get pushed aside.
So I turned to the TV. I lifted my previous water-shed of not turning on the telly before 7 or 8pm, which was set back when I was a little addicted to watching television.
And what I've learned from this is that I'm clean!
No more re-runs of Friends, Grey's Anatomy or Gossip Girl. No more cravings to re-watch Bridget Jones Diary or The Devil Wears Prada.
I genuinely don't seek it out anymore because I don't need it, but this isn't necessarily to say that everything I watch is educational and mindful, because I still watch the occasional trash TV.
But it's a huge milestone for me that I only watch new content that is somewhat engaging, rather than solely constant re-runs and background TV.
And I find it rather difficult to watch it for long periods of time, which used to be my biggest problem because I could watch it all day. I am no longer a slave to the TV, just a fan.
So if you too find you need some down-time away from the heat or a long stuffy day, or perhaps your weather has just been plain rotten and all summer dreams have been crushed, here are some television programs to keep you perked up and engaged.
1. Black Mirror
It's a well-known classic at this stage, that depicts our fears of what's in store for our bleak futures. It experiments with technology and it's interaction with our society as each episode plays out potential disasters – and benefits – that technological advances could offer for us, in years to come. Each episode contains a separate set of characters and story-lines so simply pick at random and begin there. Episodes vary in tone, so don't give up if you didn't fancy your first choice.
Watch it on: Netflix.
2. Killing Eve
This revolutionary series turned a lot of heads from day one and has been praised and rewarded for the wit and intelligence that flood the show. It follows Eve, a bored MI5 agent who becomes enthralled with a series of assassinations that she believes were executed by a woman. The series is tantalizing and addictive and has many encounters of quick-snap hilarity and comic relief to counteract the cloaks and daggers.
Watch it on: HBO, Sky, Hulu.
3. Chernobyl
I'd be surprised if you hadn't yet seen this absorbing suspenseful mini-series based on the true tragedy of the Chernobyl nuclear power plant that exploded in 1986, which resulted in millions of deaths. Hailed the greatest series of all time, this is a must-watch. The five-part series is extremely painful viewing at times, but it is a vital warning on the dangers that politics, secrets, and power can cause. Chernobyl is capitating, educational, and perfectly describes and explains the sequence of events that caused the explosion, and allowed for the deathly aftermath.
Watch it on: HBO, Sky.
4. Big Little Lies
On the completion of season two, I thought it important to include this darkly dramatic series which involves a group of women, a murder and a lot of mischiefs. It generates that small-town mystery vibe, but with a modern twist, that promises a curious life behind closed doors. It's both simplistic and complex and shows the dark-truths about relationships, life, and love.
Watch it on: HBO, Sky.
5. Years and Years
If you're in search for a Black Mirror duplicate but with heart, then this is your show. Taking dystopian future to the next level, this series mashes together political, environmental and economic turmoil, and narrates the aftermath through the eyes of one dysfunctional family. Its realistic plausibility makes it both terrifying and heart-wrenching, yet the comfort of the perspective of a normal, relatable family allows for intermittent ease while viewing.
Watch it on: HBO, Sky.
6. Money Heist/ La Casa De Papel
Don't speak Spanish? Well, me neither (I'm getting there) but you just might if you tune into this gem. Whether you try to follow the subtitles (like me) or you watch it dubbed, it certainly won't matter because the content is so intriguing. This show changes the trope of a money heist, and portrays a cleverly planned series of events with twists and turns along the way. Engaging, addictive, dramatic and funny, this show has it all and it morphs bank robberies into the new political activism.
Watch it on: Netflix.
7. Catastrophe
I discovered this show on a complete whim and became rapidly enthralled. It's a short-episode comedy-drama, about an Irish woman that becomes pregnant after a one-night stand with an American man. It details the aftermath of the bombshell, how their relationship grows and the bumps and bruises that are gathered throughout their journeys. All four seasons are equally perfect, a balance of hard-hitting reality and hilarity.
Watch it on: Amazon Prime, Sky.
8. Derry Girls
Not Irish? Perhaps you will struggle to follow this fast-paced Northern Irish show, but the world-wide praise has proven its widely applicable humor. This short series marries political troubles with humor and honesty, a difficult dynamic to create. Each episode is jam-packed with witty one-liners and comical story-lines that lightly mask the severity of The Troubles. If you're anything like my Mum, you will literally not stop laughing from beginning to end.
Watch it on: Netflix, Sky.
9. After Life
This Ricky Gervais classic can be difficult to digest at times where it overflows with dark – depressingly dark – humor, but at its heart, it tells the truth of grief and depression, and life after losing a loved one. Somehow, threw the mist of this heavy-weighted topic, the series still manages to be lively and entertaining, and even uplifting. Ricky Gervais isn't everyone's cup of tea, but this piece of work deserves recognition for its honest portrayals and kind sentiments.
Watch it on: Netflix.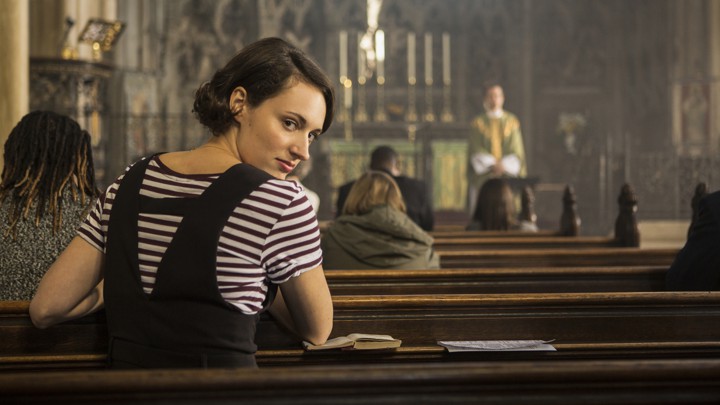 10. Fleabag
Ending on a high here, this short series is simultaneously laugh-out-loud hilarious and terribly murky, with a lot of cringing along the way. Phoebe Waller-Bridge, the genius behind Killing Eve, firstly created this hugely praised mini-series about the life of a millennial woman in London, with a lot of issues and traumas muddled in. It deals with themes of the cruelty of life, love, family, and friendship. Fleabag is both relatable and worrisome in the most loveable way. If there's one show you should squeeze in this summer, its Fleabag.
Watch it on: Amazon Prime, Sky.