Even on a tight budget, Spotify is never something I'm willing to sacrifice. I've played with the idea of canceling it from time to time (usually when it deducts from my account each month) but I know myself well enough to understand my reliance on this beautiful music platform.
For all you students out there, enjoy your cheaper monthly subscription while you have it! I long for the days that it was included in my phone bill, and never felt like something I had to budget for.
€10 a month sounds like nothing you say? Well, it adds up. Especially for us broke gals. That's €120 a year. Year in year out. That is a lot of shoes I could be buying.
Nonetheless, I can't imagine ever skimming on this gem subscription and I do dream for a time where Spotify relax and act as Netflix, allowing multiples to trade passwords and use together (and pay less). Sadly, that's doubtful.
I'm truly ecstatic to see that the Spotify platform has slowly taken on a life, not at the same pace of Netflix, but thoroughly. Long gone are the days of illegal downloads on LimeWire or dodgy YouTube conversion sites (am I even allowed to say this?) and it's commonplace to glance over someone's shoulder and see them scrolling through their Spotify home page. I am aware that some prefer platforms such as Tidal, Apple music and so on, but let's face it. Spotify is the crème de la crème.
I used to spend hours on there, forming and editing playlists, combining and juggling. Playlists for every mood, occasion and time of day. I would fantasize about spending my evenings discovering music and putting together a sweet mix I could use to dominate the speakers at parties – much to the annoyance of my friends.
Now, I rarely have time for it (I guess it would be pretty bad if I spent my free time mashing up Spotify playlists like a kid, right?) and when I do, I get tired of the tedious line-up, due to playing it repeatedly while cleaning, commuting or writing.
Recently, I've had to resort to the dreaded (my preconception, anyway) Created by Spotify Playlists.
Ugh.
Before I deemed them irritating and lackluster, often cliché and without any intrigue or depth. Treading along the lines of the radio, they infused the same old pop music that they assume everyone likes when in reality we just can't shake those damn catchy choruses. Anything that was outside the pop culture genre usually had the feel of an algorithm-put-together-playlist. That's just sad.
But with zero time to create my own delightful mixes, I had no choice but to delve into the many, many Spotify Originals.
Please don't assume me a snubbed music connoisseur, I like Taylor Swift as much as the next girl. But it can get old quickly.
On that note, I decided to put together a listicle of my favourite created by Spotify Playlists. There are literally thousands, and in my experience, it proves painful digging through the reams of – bad – playlists, and finding a diamond in the rough, if you will.
It doesn't have to be a Sunday; you can listen to this whenever – I promise! This playlist has about 400,000 followers so the chances are you are already a listener. But perhaps I can remind you of its beauty?
It's a relaxing mash-up of old and new soul, and it's four hours of bliss. It contains the likes of Tom Misch, Hozier, Anderson .Paak, Poppy Ajudha, and many more.
This playlist marries the concepts of happiness and relaxation, which is something not a lot of playlists can do. Most in the happy genre are often a little too upbeat and motivating. Sometimes you just want to relax, while feeling happy and chill (with some serious notes too, of course).
I use it a lot when I'm doing any work on my computer, or when I'm trying to concentrate. In fact, I'm listening to it right now. It blends into the background smoothly and creates a chill ambiance.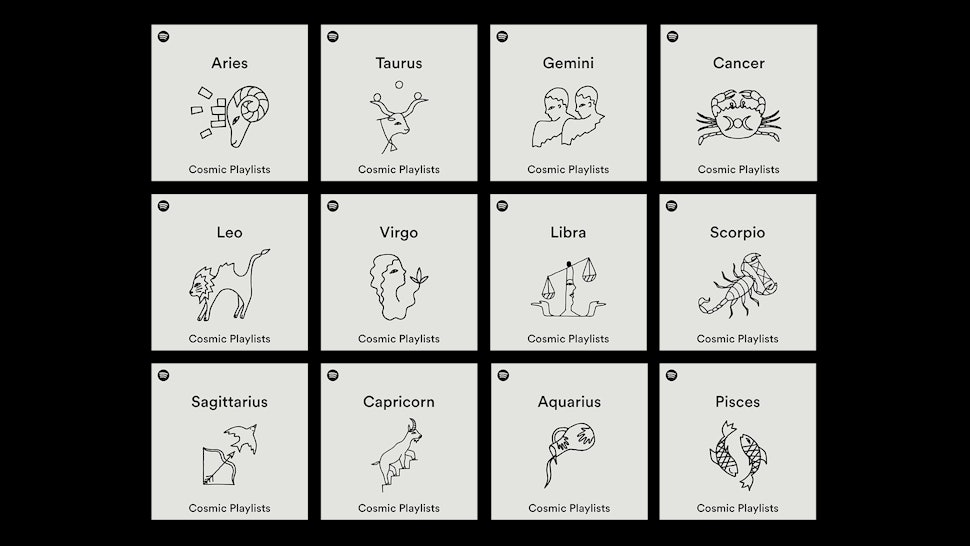 Spotify is increasingly trying to tailor our playlists to us, to avoid aforementioned pop mashup annoyance. One of its recent installations into that category is one based on your star sign. Gemini? Aquarius? Taurus? Go find your playlist and encourage an inner debate of whether you like the songs or not, and whether a higher power believes you should (Trippy?).
It changes monthly, I guess to allow for your moons movement into retrograde and blah blah blah, but it's pretty interesting to listen to the strange mixture of songs that somehow relate to your zodiac.
Whether we like it or not, 'what's your sign?' is a common question, and the cultural zodiac obsession is going nowhere.
On more than one occasion, I've spitefully tuned into another star-signs music and felt cheated by my instant attraction to their playlist over mine.
Cooking? Dinner party? Watching a loved one cook? If you're in the kitchen, stick this gem on. It's best in the evening, creating a relaxing atmosphere for your imminent meal. Like Sweet Soul Sunday, it's ambient enough to encourage a good feeling, but not in-your-face peppy.
It's got a cool combo of Topaz Jones, Masego, Corinne Bailey Rae (Put that record on, amirite?), Justin Timberlake and more.
It's a kind of low key party playlist, so it's perfect background noise or full focus, while you pour love into your dish.
Bit of a wildcard here, but sometimes we rely heavily on some sleep-infusing sounds to drop off. I discovered this savior when staying in a hostel with more than one loud snorers, and the sounds of the rain and the jungle moved me out of my frustrating insomnia.
Some of the animal sounds are a little intense, so if you prefer to keep it simple, try Rain Sounds also.
Who doesn't love their 90's Hip-Hop? For my generation anyway, this is when all the classics in Hip-Hop were around – Biggie Smalls, Ms. Lauryn Hill, A Tribe Called Quest, 2pac, The Pharcyde, need I say anymore?
It's a classic house-party/kickback concoction of all the greats, in one place. It's smooth and fun, bouncy and chill. I truly love my 90's hip-hop, as I'm sure you do too.
Listen to this if you just want to jam by yourself or if your hanging with friends.
Feeling tired? hungover? a little fragile? This playlist tucks you up like a warm blanket, just what you would expect a morning stroll to feel like (if you could do that whilst simultaneously wrapped in a warm blanket?).
If you're reading, studying or just need to relieve your anxieties, put this on and listen to the soothing (albeit cliché) voices of John Mayer, James Morrison, Jason Mraz, Duffy and more.
Who cares if it's a little corny? It's refreshing and relaxing, so you do you. If you're really embarrassed to blast Your Body is a Wonderland, then just put your headphones in and violá; your shame is no more.
Ok, Su
mmer is approaching, and you need a new mix. Something with a little pizzazz but not overwhelmingly filled with the likes of Dua Lipa (I mean, I love Dua, but there's only so many times I can listen to One Kiss)
Self-described as sizzling hot, it really delivers. A cool blend of old and new, it's fun and funky through and through. This fun find perfectly mixes the sounds of Childish Gambino, Jamie xx, Junior Senior, Fleetwood Mac, and Len. A little random at times, but it works.
Whether your sipping cocktails in the sun or dreaming of an early finish, listen to this to get you pumped up and feeling summery.
Despite the irritating name, this one is a keeper. A type of fun-indie collaboration, it's lively and easy-going all in one. Some old and new British classics, a reliable and familiar sound.
Although it's recommended for the morning, it suits whenever, some easy sing-along music to fuel your day, a playlist that has something for everyone, so there are no music-deciding arguments.
I'm sure these playlists seem tailored to my taste exclusively, but I hope you find some 'basic' Spotify playlist to get down to. Follow me on Spotify here – if you're interested!
Got any go-to Spotify originals? Tell me about them!