Although there are more travel bloggers and influencers out there than I can count, I figured it no harm to add a small travel section to this blog, but with a budget-friendly frame of mind.
Moving to Madrid, I was sure that I would be regularly jetting out for a weekend here and there, thinking I was in the hotspot of travel in Europe. I was crestfallen when I realized that flights out of Madrid actually have an expensive average (when you have a low income) and that city breaks wouldn't be as common as I had imagined.
Even worse, trains or buses around Spain also cost a little more than is ideal, so keeping an eye out for bargains is vital. Traveling at public holidays is a no go (prices skyrocket) and holding out for Ryanair sales is pointless (always out of the UK!) so you have to just hope.
When I saw flights to Milan for €35 (return) I pretty much booked it on the spot. What a steal! I thought, and then I remembered that Milan is notoriously expensive. To make money matters worse, I planned to squeeze in a day trip to Florence.
I dove into research to ensure I had every detail well-planned (including where to eat for every meal) so that I wouldn't be tripped up by last-minute-panic splurges.
Usually always having a kitchen in accommodation when traveling, this time the cheaper Air Bnb's were without, and I figured when in Italy, you have to eat.
Below are my budget-friendly recommendations. Keep an eye on this Travel section, where I will be posting new and old trips and any tips and recommendations for traveling on a budget.
---
Milan
Accommodation 
I always Air Bnb if I can.
This Air Bnb was well connected with the metro and averaged at about 23 a night each. Comfy, spacious, and convenient.
Transport
A 48-hour metro ticket is €8.25 and considering you have to swipe them between transfers, upon entering and leaving it's worth it both economically and out of laziness!
Food & Drink
The most important of all. Sadly for me, the drink was the part I didn't anticipate. I figured; it couldn't be much worse than the UK could it? In some ways yes, in others no. A pint costs a minimum of €5 in both cities, a glass of wine was usually the same, but often a bottle would work out to save money. But at least a cheap-ish filling, tasty, meal was doable.
Gino Sorbillo, Largo Corisa dei Servi, 11.
When we arrived, we headed straight for pizza to Gino Sorbillo. It's a small chain, we choose the one closest to the famous Duomo. It's not super cheap, but you can get a huge pizza under €10 if you go simple. Alcohol, on the other hand, is more expensive. Nonetheless, It's delicious, quick and very filling.
 Cape Town Cafe, Via Vigevano, 3
Later that evening, we went for some famous Aperitivo. Usually, it takes place between 6 and 9pm in most bars,  it includes drink deals and some pre-dinner bites. We went to Cape Town Cafe, by the canal. This place has really cool vibes, good music, friendly staff and although the drinks aren't very cheap, their aperitivo is free and plentiful!
Miscusi, Via G. Leopardi, 13
Miscusi specializes in homemade pasta. You can make up your own dish, choosing the type of pasta, then the sauce and then anything further. The pasta is super fresh and a liter of wine is only €12 euro so a happy steal!
Princi, Largo La Foppa, 2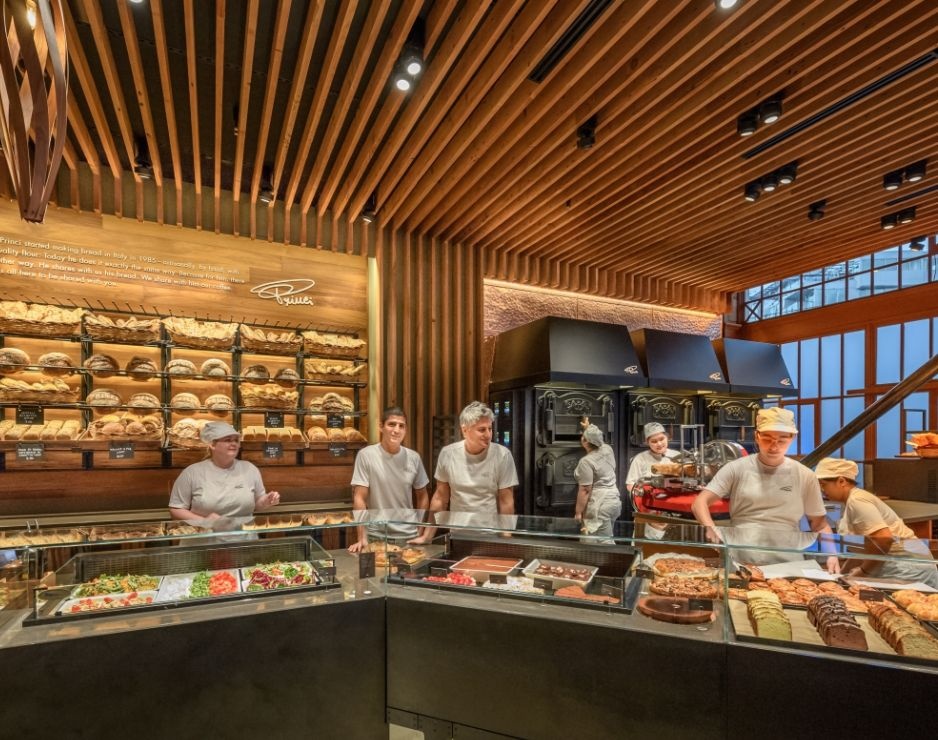 We had breakfast here, filling up on pastries, cakes, bread, and strong coffee! Cheap and mouth-watering, perfect for trying different bits or grabbing a small bite.
Luini, Via Santa Radegonda, 16.
Right beside the Duomo, it's amazing that these dough ball's (Luini Fritto's) cost under €3. Perfect for a snack, or try different flavors if you want to fill up.
Village Cafe, Ripa di Porta Ticinese, 53
Sit on this terrace by the canal, have a drink or some Aperitivo. Their buffet is impressive, extensive and delicious, and costs only €10 for unlimited food and a drink.
Sights
The Duomo di Milano, is one of the main attractions. To no suprise, the square is overcrowded and filled with pigeons and people trying to sell you bracelets. But it's nonetheless spectacular.
We didn't pay into the Duomo or to see the famous The Last Supper, because it was simply out of our budget. If you have the money, I recommend booking far in advance.
La Rinascente, the shopping center beside the Piazza del Duomo, offers a close-up and calmer view of the Duomo, if your willing to buy a drink or some food.
Santuario Di S. Bernardino Alle Ossa, is a church near to the center with real human bones and skulls in a chapel at the back. Both interesting, and creepy.
The Brera District and Via Ciovasso boast picturesque streets and relaxed cafes and ice-cream shops. Perfect for meandering strolls.
Parco Sempione and Sforzesco Castle have places to sit and sun, ponds to watch ducklings and lots of history to take in.
The Naviglio area hosts a huge canal with different paths to follow along, it's relaxing and not too overcrowded. Tranquil and low-key, with plenty of bars to sit out and people watch.
---
Florence
Accommodation
This Air Bnb was very central and affordable (it is Florence after all) and super cute! It's a private room with ensuite but it's basically a flat of its own just in the owners building. About €30 each for the night which comparable to others, is very affordable.
Transport
Flying into Florence is a little overpriced, but to Milan is often reasonable. A train isn't too costly either, so it's definitely a cheap and convenient option. We paid €50 return for a train. Because of our short trip, we needed to go at specific times, but if you're more flexible you'll find reduced options, and if you really want to scrape the barrel, the bus is a cost-effective option too.
Food &Drink 
I Fratellini, Via dei Cimatori, 38
A quaint, old school, hole in the wall, perfect for a delicious sandwich. Copious choice and a quick moving queue, it costs €4 for a filling bite. They serve wine too if you're happy to drink it on the street, and you can get a glass for less than €3.
Gusta Pizza, Via Maggio 46
This is probably the best pizza I've ever tasted. You might have to queue, but the service is quick and the one bite is worth it. You can get a pizza here from between €5 and €8 so it's a steal! The table turnover is speedy, and a glass of wine is under €3. This place is a must-eat!
Il Panino del Chianti, Via de' Bardi, 63
This place has paninis, but we only drank their wine. Ideally located at the end of the famous Ponte Vecchio, you can buy an affordable, delicious, bottle of wine to sit and watch the world go by, or to take away.
Sights 
The famous Cathedral in Florence is spectacular, but unless your willing to splash out and are more organized than me, the queue to get inside there or the bell tower is extremely long and slow moving. We opted for the less organized version of a nearby rooftop terrace, La Terrazza, and still got a nice view… and an overpriced coffee. At least we didn't pay entry!
For a whole city view, there's Piazzale Michelangelo. There are some trucks selling cheap beer, and also, someone playing music. You can sit on the steps to relax and look at the beautiful scene.
From here, you can descend by heading through the beautiful Giardino della Rose, or the rose garden, which is exactly what it sounds like and holds a different view of the city… amongst some spectacular roses.
The bridges offer beautiful views across the water, and at the buildings. Especially Ponte Santa Trinata. 
The Mercato Centrale is a busy market filled with grocery stalls, clothes and street food counters. Here you can try some traditional food for cheap, and pick up a souvenir or two.
---
Even with my intense organization, it was still difficult to avoid splashing out on certain foods and drinks (holiday mode, after all) but sticking to these places is what kept my budget low, which is difficult to do in these tourist hot spots.