The only living being I have to thank for my immense obsession with Podcasts is a half Jack Russel, half Pug named Benji. Last February, for a long six weeks I oversaw the well-being of one of my mates' dogs named Benji. It started off as a very happy, beneficial relationship and it quickly turned resentful. I could walk him for 3 hours (it was probably the snowiest winter I had ever experienced during my time in Edinburgh) and he would still be bouncing off the walls all evening. He constantly wanted to go outside, and upon arriving at his requested destination (the park) he was too cold and wanted to be picked up. And sometimes, for no apparent reason, he would attack my trainers – while I was wearing them – like they were a taunting pair of cats (bad joke?) until I agreed to continue the walk.
To sum up, it was a turbulent and stressful six weeks but relatively enjoyable none the less. Thanks to Benji, I was going for long walks in the freezing cold, so I generally needed something to preoccupy me. Music got boring after the first couple of days (I love music as much as the next girl, but when you have to walk around a city you know pretty well and it's freezing cold, you need more of a distraction), so I ventured into the world of Podcasts which was so much bigger than I ever imagined.
I had only once attempted to listen to a podcast before and it was probably the most popular one around at the time – Serial (More on that in another post). I listened to it on the plane journey returning from New York (humblebrag) and I fell asleep pretty quickly. Maybe this was because the rhythm of any form of transport makes me sleepy or maybe just because I couldn't get into the mindset that instead of reading or watching a story unravel, I just had to listen to it.
Either way, I began to look forward to walking Benji (a genuinely shocking turn of events) because I could listen to podcasts essentially guilt free. Walking the dog was something I had to do daily, so it was different from my usual procrastination to avoid doing my TEFL course, cleaning or just anything else generally productive that I used to find myself avoiding in favour of re-watching Friends instead.
It felt like I was hitting a few birds with the one stone; walking Benji, actually getting a daily dose of exercise and fresh air myself, self-educating and having some me-time.
This story does actually bring us somewhere – the first podcast I became obsessed with; School For Dumb Women.
I stumbled across this gem randomly on my podcast app, I presumably had searched for my much-desired combination for everything in life – Comedy yet Educational.
As an overview, it is a funny and enthralling podcast narrated by three women living in London (Caroline O'Donoghue, Alexandra Haddow and Hannah Varrall), in which they all pick a different topic, fact or subject that basically we are all too proud to admit we know nothing about. This can range from the purpose of belly buttons to who Elon Musk actually is to the reason for fall of the beanie baby empire.
It creates a comical mix of feminism and the sometimes-true stereotype that differentiates 'Smart' and 'Dumb' women, in the least offensive way – simply light-hearted and honest.
"A podcast by dumb women, for dumb women, where we investigate the subject's you're too proud to admit you know nothing about"
If you're anything like me, you will learn a lot more than you originally imagine from it, all the while laughing and looking like an idiot as you walk down the street with a crazy little dog. To be honest, some of the subjects they choose were things I had never even heard about never mind pretended to know about – but that probably says a lot more about me than the podcast.
For me, it was the perfect introduction into the world of podcasts, completely relatable, extremely hilarious and oh so easy to listen to.
If I haven't sold it enough – just go listen to the beginning of any of the episodes and you will be hooked.
After all, we all have a bit of a dumb woman inside of us, don't we?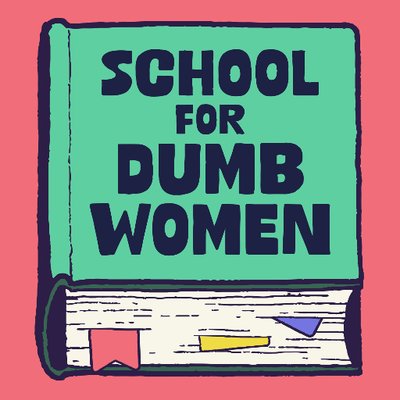 Picture illustration by Gavin Day